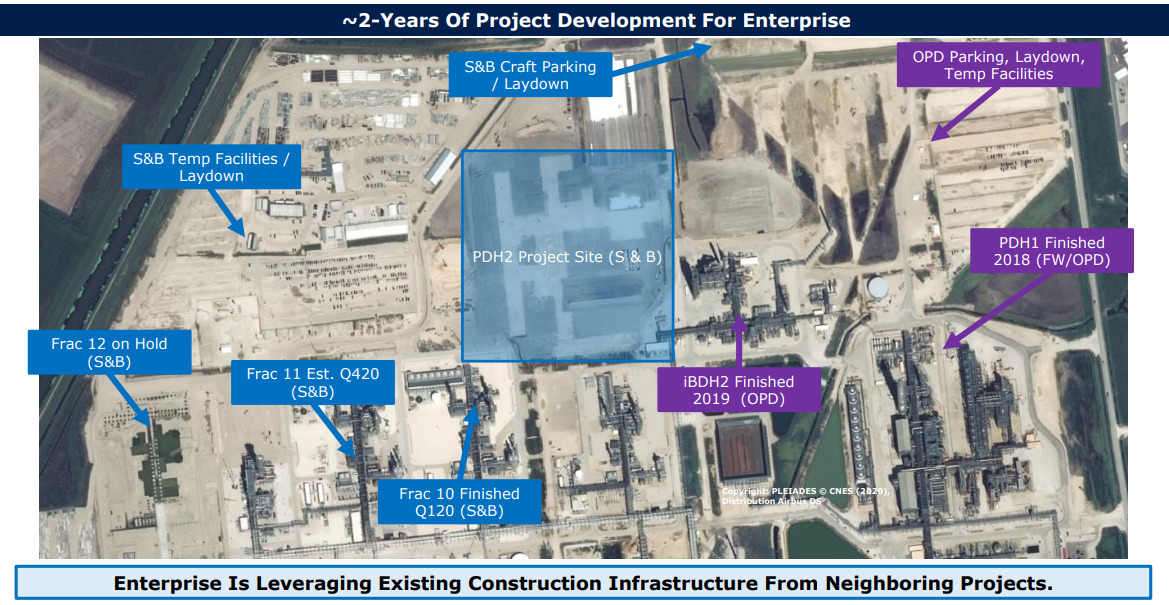 W|EPC: Enterprise (EPD) PDH-2 Q420 Project Monitor & Satellite Image Review
Key Takeaways: Enterprise (EPD) PDH-2 Q420 Project Monitor & Satellite Image Review
EPD PDH 2 – Project Delay Analysis.  In Q220, EPD announced a 3-month schedule slip (from Q123 to Q223), potentially limiting future change orders (i.e. cost escalation) related to COVID impact (based on typical EPC contract FM concepts).To reduce the COVID delay to only 3 months, we believe EPD implemented a schedule recovery plan that accelerated/compressed back-end construction activities to meet a Q423 COD forecast. (pgs. 10 – 13). We've independently estimated PDH 2's slippage based on Q420 aerial project site images, with details found within our note… (pages 4 – 7).
Enterprise's First ESG Guidance… : On October 28, 2020, EPD released their approach to ESG. In the report, EPD touts they are the largest Midstream producer of Hydrogen. With the addition of PDH2, Enterprise would increase their Hydrogen production by 140k tons/year, and we estimate ~150MW of electricity by incorporating fuel cells in their Mont Belvieu, TX facility.
Companies like SK are working with fuel cell manufacturers to integrate high temperature Solid Oxide Fuel Cells (SOFC) into PDH units to use the hydrogen produced to reduce operating costs….this could help EPD's ESG potential.
Project Timeline Catch Up – Risks & Benefits: A schedule recovery plan can be costly and is not guaranteed to succeed. PDH 2 schedule recovery risks/benefits include: Risks – An EPC lump sum contractor (S&B) compresses the schedule & may cause inefficient construction & cost escalation. Benefits – The COVID delay started before site prep and avoided a de-staffing of the project. Based on limited on-site progress, S&B likely hasn't spent much of their field budget & may have available contingency to support acceleration costs/inefficiencies.
W|EPC's estimated timeline shows site labor and progress can support pulling activities back to Q223 with a probability of success of…. (pgs. 10-13)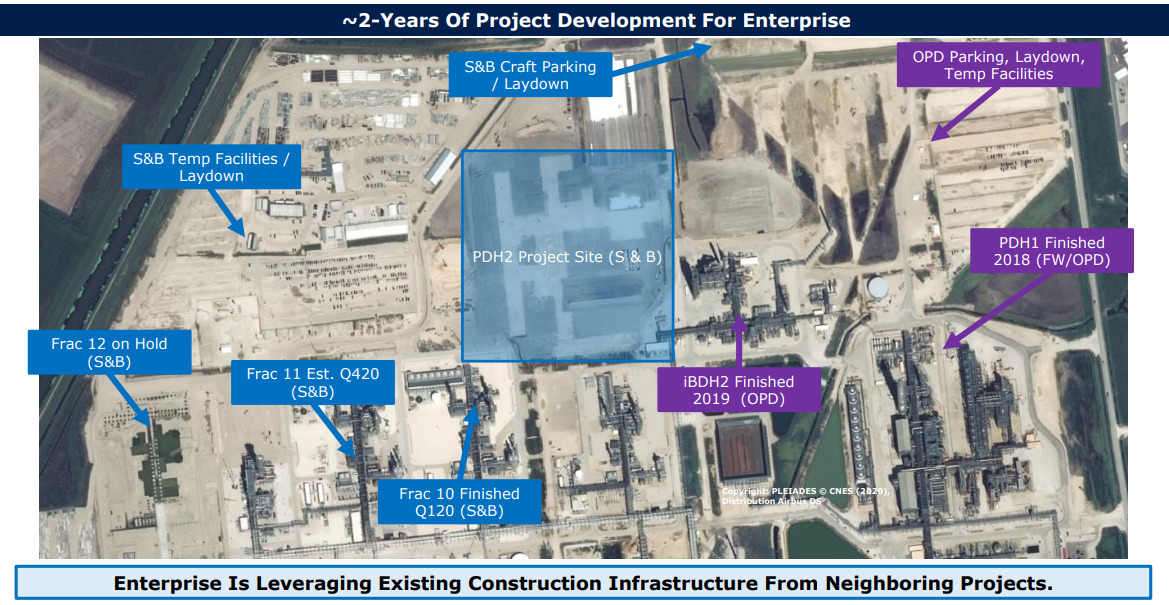 W|EPC: Enterprise (EPD) PDH-2 Q420 Project Monitor & Satellite Image Review
For access information, please email us at [email protected], or our institutional sales at [email protected]